HORMONE BALANCING BY FLO LIVING
BECOME A POWER SOURCE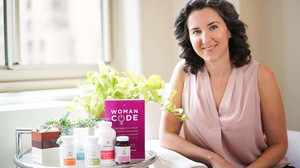 As a student at Johns Hopkins, Alisa Vitti was diagnosed with Polycystic Ovarian Syndrome, or PCOS. When her physicians gave her band-aid solutions to manage it, she discovered that food and functional nutrition addressed the root of the issue. After healing herself naturally of cystic acne, excess weight, and infertility, and normalizing her period, Alisa made it her mission to help other women to do the same.
EVERYONE HAS 4 VITAL SIGNS OF HEALTH
BLOOD PRESSURE- TEMPERATURE - BREATHING RATE - HEART RATE

WOMEN NOW HAVE A NEW FIFTH VITAL SIGN - YOUR PERIOD
THERE ARE 5 DIFFERENT V-SIGN TYPES™. FIND OUT WHAT'S YOURS!
TAKE OUR QUIZ TO FIND WHAT YOUR PERIOD IS TELLING YOU ABOUT YOUR HORMONES

HORMONE BALANCING - WORKING IN SYNERGY

Balance by Flo Living is designed to be taken together to promote healthy levels of each hormone through all 4 phases of your cycle. You need to take all five formulas simultaneously for comprehensive hormone support.
Stop searching in the isle. Clean out your medicine cabinet. We've done the research for you and packaged the most essential supplements in 5 formulas that we know work for thousands of women.
BALANCE SUPPLEMENTS

Coffee, working out hard, chemicals in your environment, sleep deprivation, the Pill, stress… these all strip your body of key micronutrients that keep your hormones healthy.
Whether you're trying to get rid of pesky PMS, offset the effects of synthetic birth control hormones, improve a diagnosed condition like PCOS, fibroids, or endometriosis, or improve your fertility, the Balance by FLO Living Monthly Supplement Kit will help you take your health to the next level.
SUPPLEMENTS - INTRODUCING BALANCE BY FLO LIVING
The First Supplement Kit for Happier Periods
These five formulations provide essential micronutrient support that you need to balance your hormones. Think of them as your personal "insurance policy" against endocrine disruptive things that you're doing (knowingly or unknowingly) that are throwing you off balance.
One of each per day can help you get a better period by next month!
THE BALANCE SUPPLEMENTS
ENERGIZE

Coenzymated of all B vitamins you need.
Mood booster - helps with mood swings and depression.
Support energy levels when dealing with adrenal fatigue.
Can support healthy sex drive by providing adrenal support to make the right cortisol to DHEA ratio (B5).
Can support healthier fertile factors by supporting progesterone production (B6).
DETOX

Detox antiox supplement
Liver support for overall detox function
Supports healthy detox of excess estrogen
Contains nutrients that combat free radicals
Helps support healthy weight loss
REPLENISH

Buffered chelated magnesium
Supports healthy cortisol regulation
Can help promote relaxation and deep sleep
Provides support for healthy thyroid function
Helps your body make progesterone, estrogen, and testosterone
GUTSY

Dairy-free probiotics
Helps balance gut bacteria
Support for balanced moods by supporting healthy bacteria in gut
Can help with improvement of digestive function and nutrient absorption
Reduces chances of getting yeast infections / bacterial vaginosis
HARMONIZE

Ultra omega with vitamin D, K1 and K2
Supports healthy mood balance
Helps reduce prostaglandins that cause cramping
Reduces oxidative stress and inflammation which is linked to many chronic diseases
Supports healthy fertile factors and ovulation
QUALITY INGREDIENTS - NO FILLERS
The supplement ingredients are locally produced and locally sourced, using the highest manufacturing practices and independent testing for quality and purity. No harmful fillers, weird coating, or garbage.
Non GMO
Gluten and allergy free
No synthetics fillers or colorants
Manufactured in the USA
Bioavailable
PUT YOUR PERIOD SYMPTOMS AND CONDITIONS INTO REMISSION
WITH FLO LIVING!