Discover Daysy - The Hormone Free, Hassle Free, Fertility Tracker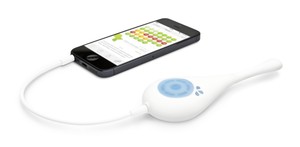 Are you frustrated with your options? 
It's a story that we're all too familiar with: forced to choose between taking synthetic hormones that cause you unwanted physical and mental health side effects or rigorously charting your menstrual cycle, making calculations and hoping you recorded everything just right. 
Both these options - hormonal birth control or cycle charting - hold problems and drawbacks and neither is all that practical for someone leading a busy life and trying to maintain their health and wellness. 
Meet Daysy: The smart fertility tracker with the simple color coding system

Daysy knows...
...when you're fertile (and could get pregnant)
...when you're not fertile (and cannot get pregnant)
...when you're gonna get your period 
...when you're ovulating
...when you're pregnant
...when you have a thyroid problem, hormonal imbalance, or food allergy (your naturopath or health coach will love Daysy's data!)
The Daysy fertility tracker is easy, simple, and highly effective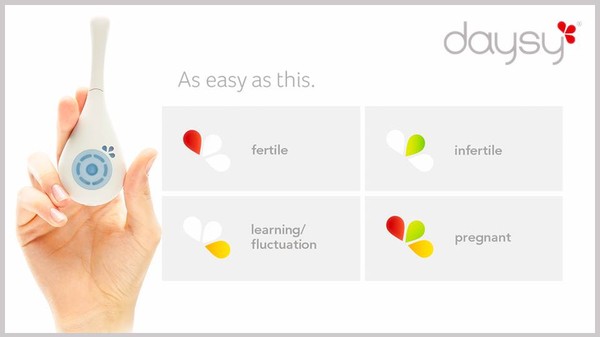 Just 30-60 seconds a day
Each morning, take your temperature under your tongue.
Confirm menstruation on the days you have it by the press of a button.
Daysy records, tracks, and analyzes your data and calculates your fertility status for the day. 
It's truly that simple! Just 3 steps to fertility freedom and empowerment.
Daysy is...
...backed by 30 years of research and experience
...clinically proven to be 99.4% accurate 
...a medical device 
...made in Germany 
Daysy was developed by women for women
We all lead busy lives and might not have the time or patience for traditional cycle charting methods. There's no need to study natural family planning or become an expert on cervical fluid analysis! 
With Daysy you can start today and, in just 30-60 seconds each morning, you're on your way to natural, healthy control of your own fertility.  
Daysy: Wake-up. Measure. Done. 
Daysy is Accurate
Daysy is 99.4% accurate, an achievement that is the result of over 30 years of work by a team of gynecologists, fertility experts, software specialists and electronic engineers who analyzed over 5 million female cycles to develop and perfect the unique Daysy algorithm.
Since Daysy's release in May of 2014, thousands of women have used the Daysy fertility tracker and the accompanying app, DaysyView, to avoid pregnancy and plan pregnancy. The real freedom to choose!
The Benefits of Daysy
Pick Daysy and enjoy...
No side effects. Not now and not in future. Daysy is completely hormone free.
It's super easy to use. Wake-up, measure, done!
No charting required. No more guessing.  No more calculating. Daysy does all the work for you.
Learn to trust your body and be in tune with who you really are.
Be in control of your body and your health. 
Understand your cycle, understand your data, understand yourself.
Highly accurate predictions allow you to plan your life better.
One time, lifetime purchase to manage either baby planning or prevention.  
Condom-free sex! 
Are you ready for easy, effective fertility tracking with NO hormones and NO charts?
Here's what women are saying about Daysy...
Daysy is a convenient and reliable alternative to all of the hormonal birth control options out there. I strive to respect and understand my body and Daysy allows me to do just that. I know that I am not negatively impacting or confusing my body with hormones which often has long-term consequences and I don't have to be bothered with cumbersome and unreliable barrier methods anymore. And, let's face it, the tech-loving-girl that I am appreciates the graphs and charts on Daysy. Birth control? There's an app for that! I love my Daysy.   -Erin Hollier,  freelance writer
Daysy is so easy to use and what you get out of it is this wealth of information about your body. I now know the rhythms and the health of my body, no guessing. I love Daysy and have told all my friends about it. - Mari, Teacher.
[Daysy] is a useful tool that has helped my husband and I grow together by learning about my cycle. I would highly recommend it as a better way to approach family planning. It is easy to use.  - Leda Wolk, private chef
I love that [Daysy is]  hormone free, which means a healthy way to manage my cycle. I used to be on the pill and once I realized how bad it was for me I immediately switched. I always tell my friends that the Daysy helps me understand my body and feel more connected to my cycle instead of thinking [of] it as a separate part of me. - Brie Richardson, senior marketing coordinator
Daysy is a safe alternative to taking birth control (hormone) pills. I took birth control for 6 years and imagine how much harm I did to my body in that time. Just think about the huge rise we have seen in hormonal cancers and fertility problems. I was nervous about using the Daysy but it becomes a part of your life and it's easy to use.- Sydney Kerlin, student
I would definitely recommend [Daysy]. Birth control negatively messed with my hormones and did the same with so many other women I know. It is not natural to take hormones to prevent pregnancy. I'm so happy there's Daysy where I can naturally prevent pregnancy without ANY side effects!
Highly recommend Daysy because it is hormone-free, easy to use, and is backed up by awesome customer service.   - Lisa, student
I would absolutely recommend [Daysy]. I love Daysy and how easy it is to use, plus the tracking makes it simple to show my doctor how things are going. My husband and I are both very concerned about the effects of hormonal birth control, but don't want to throw caution to the wind. Daysy makes it easy for us to monitor fertility together, without all the side effects of HBC [hormone birth control]  - Lauren Halcik, HR Director
Daysy allows me to take control of my cycle without hormones or side effects. I can use Daysy and not have to worry about making errors the way I would with the calendar or mucus method alone. I can be confident that I am understanding my body well and being responsible with my future! - Anonymous, high school math teacher
I would highly recommend Daysy. It's great to be off unnatural medication that is not good for my body. It is just as effective as the pill, as I have been avoiding pregnancy for 7 months now with no problem. When I do decide to have kids it will be very helpful at that time as well. The investment is well worth it in the long run. The device is easy to use and the app makes it easy to see all your data. - anonymous
It's the best birth control if you don't want to put hormones in your body.
- Kathrin, student
Get free cycle analyses and printouts at any time. By sending our team your data from the DaysyView app you can obtain free cycle analyses and reports for your review. Get free suggestions on cycle regulations and healthy lifestyle tips. We will support you with any questions you may have.
Who should use Daysy?
Women who are sick and tired of their birth control options.
Women who want to stop having side effects. 
Women who want to know more about their fertility and health.
Couples who want to conceive. 
Women who want to be in tune with their body.
Women who want to feel free and in control. 
Women who are postpartum or breasfeeding.
Women who are just too busy for cycle charting manually. 
The truth is that any woman can use Daysy to plan or prevent pregnancy! Daysy was designed to make hormone-free, hassle-free fertility tracking accessible to all.
I highly recommend Daysy, it has been one of the best investments. If something goes wrong customer service is there to help you and Daysy is easy to use. Also in the long run it'll save you money on condoms since you'll know your fertility. - Liliana, Nail artist.
A personal note from the creator of Daysy
Hi, I'm Natalie Rechberg, founder of Daysy.
I grew up immersed in natural fertility management because my father was the founder of Lady-Comp, a leading tool in natural family planning for over 30 years.  Even though I spent my entire life in this environment,  I followed the trends my friends followed and tried different birth control methods at an early age. I learned fast that, for my body, this wasn't such a good idea. Like so many women, I suffered side-effects from hormone-based birth control options, including significant weight gain. My experience taught me that natural birth control was right for me, so I went back to using the Lady-Comp.
From this time forward, I immersed myself in natural fertility management and have become a sought-after expert in woman's natural menstrual cycles. I also trained as a yoga instructor and deepened my studies in health and wellness for women.
Today, I am a menstrual cycle geek!  I created Daysy for those women who are sick and tired of hormonal birth control but find traditional cycle charting methods too complicated for their busy lives. Daysy leverages 30 years of experience and research along with the latest technology to help women safely and confidently manage their fertility.