Refer a friend!
Help Daysy get the word out about our line of natural family planning products! If you have family and friends who you think could benefit from all that the Daysy fertility tracker offers, join our refer a friend program! 
How does the program work?
It's simple. Sign up using the link below. Grab your unique URL and share, share, share!  For every friend you refer that purchases a Daysy through your referral link, you will earn a $10 bonus and your friend also receives a $10 rebate. Please note the conditions of participation, see below.
HOW IT WORKS
1. Register
2. Integrate advertising material
3. Track purchases and receive commission
1. REGISTER
Would you like to recommend Daysy to your friends and colleagues?

2. RECOMMEND DAYSY
Choose between link, coupon code and email!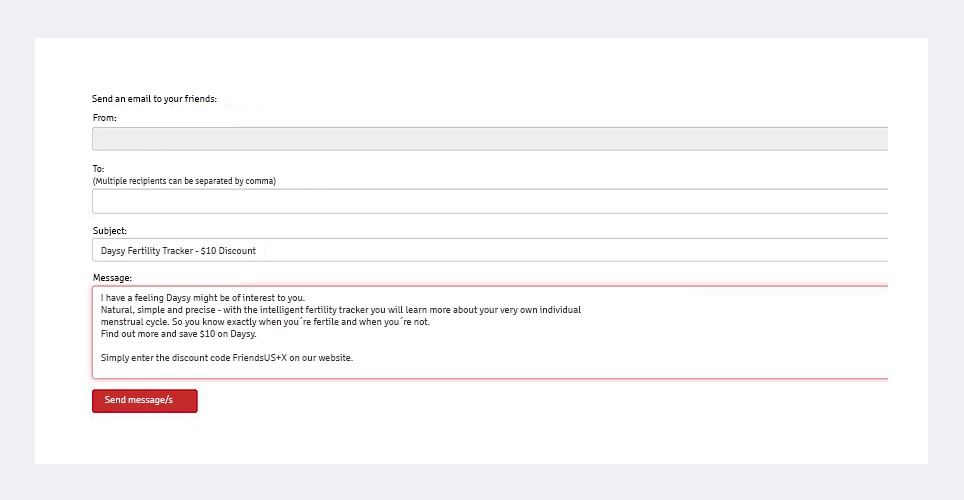 3. TRACK PURCHASES AND RECEIVE COMMISSION
You can track your clicks and purchases via the statistics.

For every Daysy purchase made with your recommendation, you will receive $10!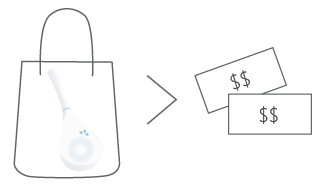 After your registration, you will find all the options you need to recommend Daysy.
Have fun! We are happy to have you on board.
If you have any questions, suggestions, or if you need information material, please send us an email to info@usa.daysy.me
Conditions of participation
It's as simple as this: If you would like to refer a friend, simply register at http://daysy.qualityclick.com/. You can forward the referral with the discount as a link, a code or as an e-mail. When your friend places an order in our online shop, she/he uses your link or code, with a savings of $10. As soon as the purchase is completed, you will be credited with $10. The bonuses are paid out every three months. The prerequisite is that your payment data has been saved to your Refer a Friend account. We use your data (e-mail, payment data PayPal) and the data of the referred person (e-mail) exclusively for the verification of eligibility for bonuses as well as for the crediting of bonuses. Information about data processing on our website can be found at: https://.daysy.me/about-us/privacy-policy/.
The following conditions must be met for a successful referral:
Referral of a friend is only permitted for private purposes.
The person referring must be at least 18 years old and be a resident of the United States of America.
Bonuses and rebates earned through the creation of an account and referral by yourself are not valid.
In the event the device is returned, any rebates earned through the purchase of the device will be void.
It is your responsibility to report your income to the appropriate tax authorities. Rules and regulations are subject to change without notice.
Related Search and Topics